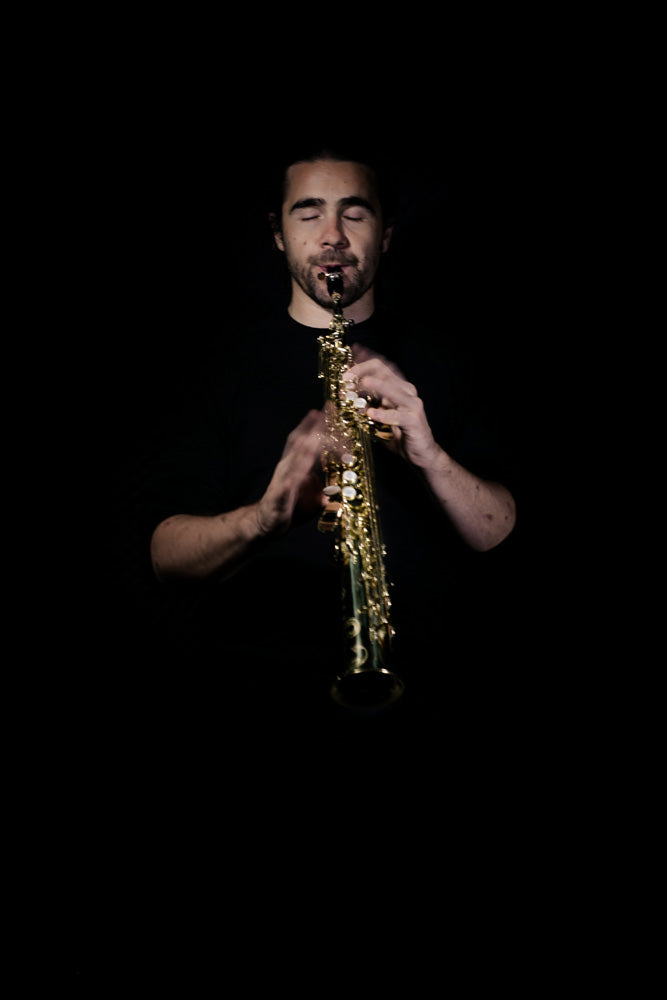 Joshua Hyde est saxophoniste, improvisateur et compositeur.
Joshua Hyde is a saxophonist, improviser & composer.
Internationally recognised as a leading performer of new music he is co-artistic director and saxophonist of Parisian new music ensemble soundinitiative and half of scapegoat duo with Canadian percussionist Noam Bierstone. A member of Australia's leading new music ensemble, Elision, he is also a regular guest with ensembles across Europe including Klangforum Wien, Musikfabrik, Ensemble Nadar & Ensemble Intercontemporain.
Joshua's discography includes releases on Integrated Records, NMC, HCR, Wergo and Torpor Vigil, and collaborations with some of the world's most notable composers have resulted in an extensive list of premieres. Equally at home as an improviser, his most recent release on Integrated Records, Sol, is a series of improvised reflections.
Particularly interested in the creation of immersive performance contexts, his compositional work often incorporates his own video and visual art. In 2018 the New Thread Quartet premiered Bring mir einen Engel zurück at the DiMenna Center in New York City, and in 2017 a part of the Vertical Horizons series was premiered with the Sond Ar-te Ensemble at the Casa da Musica in Porto.
On faculty at the Joseph Haydn Institut at the Vienna University of Music and Performing Arts, he teaches as part of a specialised new music masters program and has been invited to teach, perform and lecture at universities across the world including Harvard, Oxford & Stanford universities. Joshua is also artistic director and faculty member of the Asia Pacific Saxophone Academy.
In 2011 Joshua won first prize and audience prize at the 3rd International Jean-Marie Londeix Saxophone Competition, and in 2014 was awarded a Kranichsteiner Musik Preis at the Darmstädter Ferienkurse.
A graduate of the Paris Conservatory (CNSMDP) in saxophone, chamber music and improvisation his saxophone teachers include Claude Delangle, Vincent David, Marie-Bernadette Charrier, Barry Cockroft & Ian Godfrey. Improvisation mentors have included Vincent LeQuang, Alexandros Markeas, Evan Parker and Rob Vincs, compositional guidance has come from Damien Ricketson, Pierluigi Billone and Steven Takesugi, and he studied piano in Paris with Françoise Buffet-Arsenijevic.
Joshua Hyde is a Selmer Paris artist. He has four Serie III saxophones (soprano, alto, tenor and baritone).