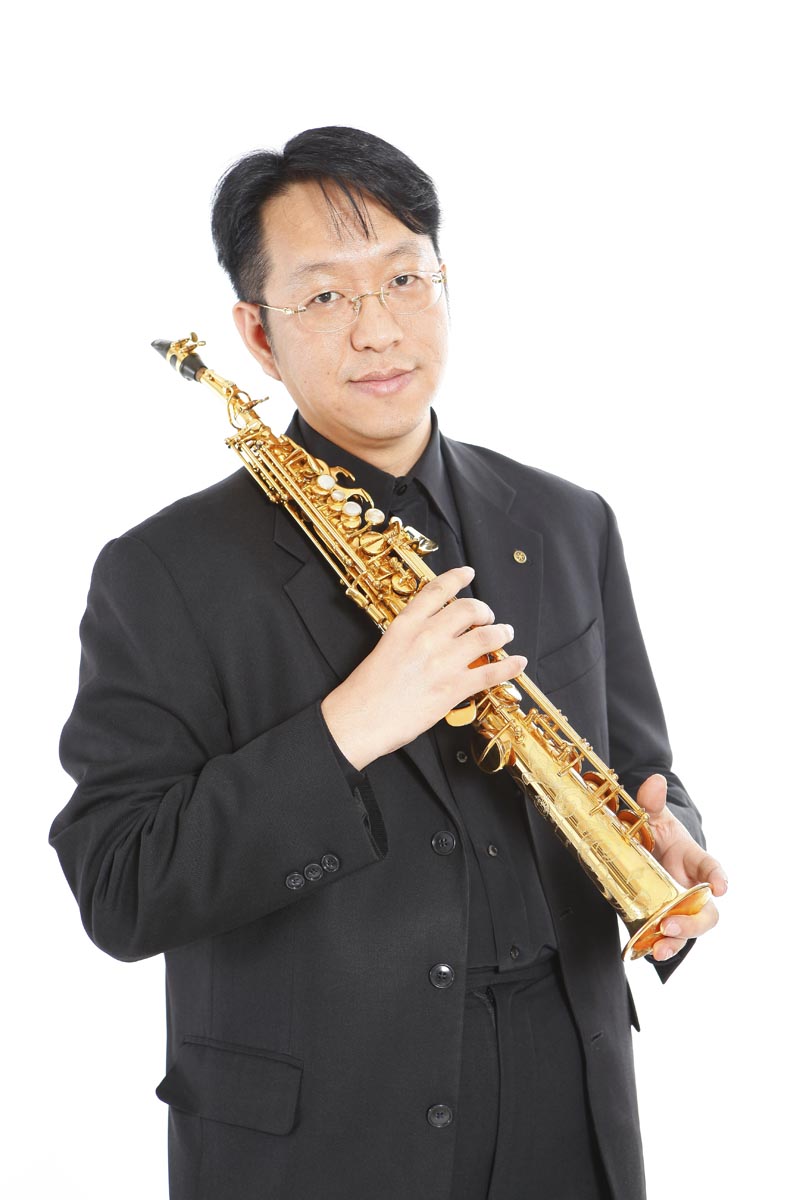 "Highly-developed Technique; Exceedingly Gracious Tone; and Perfect Interpretation" - Roger Boutry, former conductor of French Orchestre de la Garde Republicaine
Enlightened by Mr. Tseng Jen-Tzeng at the age of 16, Yen began to study Saxophone under the guidance of his teacher, Huang Tsong-hsu in 1989 and went to France in 1994 for advanced study at École Normale de Musique de Paris under professor Alain Bouhey. After he acquired his concert performance degree in 1995, Yen was successfully enrolled in the advanced class of Conservatoire National de Region de Rueil-Malmaison in 1997 and studied under the chief of the world-famous French Orchestre dela Garde Republicaine, André Beun. In 1998, Yen completed his education in the shortest term and graduated with the first prize of saxophone performance degree.
During his stay in France, he visited different places and performed in various occasions, such as the Debussy Festival in Brittany, French International Artist Village, National Vaughan Music Academy, Paris District 16 Music Academy, and so on.
After Yen returned to Taiwan, he was active in promoting saxophone music and its education in Taiwan. In addition to organizing the group of Quatuor De Saxophone Diapason, he also took up the role as the music director of Taipei Saxophone Ensemble, and was frequently invited by the symphony orchestra of the National Music Hall, Taipei City Symphony Orchestra, and National Symphony Orchestra to co-perform such musical pieces as Bizet's L'arlesienne, Mussorgsky's Painting in the Exhibition, Ravel's Bolero, Rachmaninov's Symphonic Dances, Berstein's West Side Story, Reicha's Gold and Silver, Prokofeiv's And Jie Caption, and so forth. He also presented his saxophone solo performance in the opera Principessa Turandot, directed by Zhang Yimou.
In recent years, his soloist performances have been staged in the tour concerts throughout Europe, America and Asia, including Paris, San Francisco, Tokyo, Seoul, Singapore, Taipei, Taichung, Kaohsiung, Beijing, Tienchin, Tangshan, Kuangchou, Shenzhen, Nanning, Shanghai, Sian, Hefei, Zhengchou, Taiyuan, Jinan, Yantai, Qingdao, Shenyang, Changchun, Jilin, Chinzhou, Harbin, and Daching.
In 2006, he served in the panel of jury for French Conservatoire National de Region Ruiel-Malmasion, the graduate student's graduation evaluation in the Conservatoire de Paris, and the French International Composition Competition of Lambersart, and worked as the international spokesman musician for French Selmer musical instruments. In July of 2011, Yen was invited by the 15th WASBE Conference to perform the newly composed saxophone concerto 3 Regards sur Taiwan by Roger Boutry for Chiayi.
Yen's previous experiences include the chief saxophonist in C.Y.C. Wind Orchestra (1992 tour concerts in America), Taipei Wind Orchestra & Symphonic Band, the Ministry of National Defense Symphony Orchestra, the Wind Band of Taiwan Provincial Symphony Orchestra, and so on, as well as the saxophone R/D consultant of the Industrial Development Bureau, Ministry of Economic Affairs.
His current positions are the instructor at the Institute of Musicology of the Central Conservatory of Music in Beijing, Department of music of the National Taiwan University of Arts, Music Department of Soochou University, Music Department of Tunghai University, the Department of Applied Music of Aletheia University, Music Department of Chinese Culture University, Taipei Fuhsin Private School, Kuang Jen Catholic High School, Pei Teh High School Music Class, and the Saxophone Band of the Rotary Club of Taipei Chung Hsiao, the chief saxophonist of Wind Band of Taipei Symphony Orchestra, Wings of the Angel Symphony Band and L'orchestre d'Harmonie Chanson du Vent, the contracted special member of the National Music Hall Symphony Orchestra, the guest saxophonist of Taipei Symphony Orchestra, the music director of Taipei Saxophone Ensemble and Diapason, the R/D consultant of Taiwan KHS Jupiter musical instruments, as well as the board member of Music Foundation for the Blind in Taipei.